Soss Moss: Police arrest whole ward at mental health unit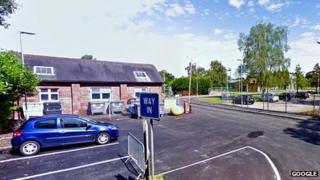 A whole ward of patients has been arrested after a disturbance at a mental health unit in Cheshire.
Cheshire Police said officers were called to Soss Moss in Netherley Alderley, at 19:55 BST on Saturday.
A police spokesman said the "incident" lasted three hours until 14 patients were arrested on suspicion of causing criminal damage.
Cheshire and Wirral NHS Partnership Foundation Trust, which runs the unit, said nobody was injured.
A spokesman said: "We would like to make clear that at no point was the perimeter of the unit breached.
"Staff followed due procedure when the disturbance began.
"A police containment was put in place and the patients voluntarily left the building under police escort. Following procedure they were medically assessed prior to being retained in police custody.
"All patients have been bailed pending further investigation and assessment of the evidence. Patients are being assigned to other secure units in the North West."
A Cheshire Constabulary spokesman said an investigation was continuing and police remained at the scene collecting forensic evidence.
Soss Moss is described as a "low secure unit".
The ward usually houses 15 patients, although it is understood there were only 14 on site when police were called.