Ex-soldier David McIntyre extradited to USA over fraud charges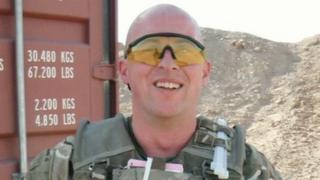 A former British soldier wanted on fraud charges in the United States, has been extradited, the Metropolitan Police has confirmed.
David McIntyre, 43, from Hyde, Greater Manchester, was denied leave to appeal to the European Court of Human Rights (ECHR) in June.
Mr McIntyre is accused of overcharging for security services in Baghdad, Iraq.
He denies the charges and says he is suffering from post traumatic stress disorder.
The eight counts of fraud relate to claims he overcharged a US peace group $100,000 (£65,000), for a security contract when he was running his own firm, Quantum Risk, between December 2008 and 2009.
Labour MP Barbara Keeley, who has opposed the extradition of her former constituent, said a request for Mr McIntyre to be allowed to stay at a British Consulate in the US, while his case was heard, had been turned down.
She said the office of William Hague, the Foreign Secretary, told her Mr McIntyre would be given a thorough medical assessment when he arrived in the United States.
Mr McIntyre served with the Queen's Lancashire Regiment in Northern Ireland, Bosnia, Iraq and Afghanistan.