Arts Council award The Lowry, Contact and The Met £3m grants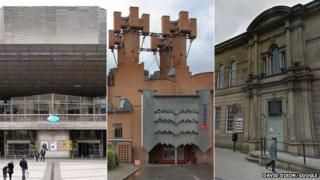 Three theatres have won more than £3m each from the Arts Council to "improve facilities and increase resilience".
The awards to Salford's The Lowry, Bury's The Met and Manchester's Contact Theatre are part of the council's capital building programme.
The council also announced The Lowry's funding would reduce by 25% to £2.4m over three years from 2015 to 2018.
Despite the cut, The Lowry announced it had received a £1m donation to help it hit its funding targets.
The donation, from Andrew and Zoe Law, is the largest donation in the organisation's 14-year history.
Salford arts venue Islington Mill was also granted £998,000 as part of the capital awards.
The amount given to The Met and Contact equates to standstill funding.
'Reimagine our future'
The Contact Theatre's artistic director Matt Fenton said the £3.8m grant was a "hugely positive step towards securing Contact's vision for the future, and for the next generation of audiences and artists".
The regular funding for Greater Manchester, laid out as part of the council's shake-up of how it distributes funding across England, will see 31 organisations funded by the council.
The list includes two new recipients - the Manchester-based mixed arts festival Abandon Normal Devices and the city's Castlefield Gallery. Many on the list will have a reduction in funding, though some will see an increase.
Those include Manchester International Festival, a showcase for new commissions across a range of art forms, which receive £2.1m between 2015 and 2018, an increase of 44% on the previous three years.
A spokeswoman for Abandon Normal Devices, which showcases new cinematic and digital works, said the £405,000 funding would "provide the base from which to continue to build the organisation and reinvent and re-imagine our festival and vision in the future".