Manchester centre 'policed by four' after 04:00 at weekends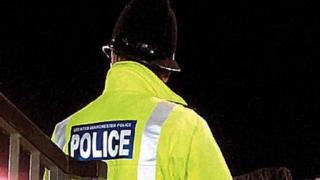 As few as four police officers are on duty in Manchester city centre after 04:00 at weekends, the local police federation has said.
Chairman Ian Hanson said police do not have "sufficient resources to guarantee people's safety" as a result.
Around 250,000 people visit the city on Friday and Saturday nights and Mr Hanson said police needed a "visible presence", which could not be achieved.
Councillor Pat Karney said Mr Hanson had "grossly exaggerated" the problem.
Mr Hanson said there was "a proportion of people who cannot behave when they've had too much to drink and we've got serious assaults and sexual attacks happening every weekend".
He said that last Friday and Saturday, officers arrested 54 people and dealt with 67 incidents.
'Special constables'
"If we've got a visible presence, we can deter people, but you cannot have [one] with four cops," he said.
"Four police officers cannot keep a quarter of a million people safe."
He said police must plan "with the council, with the pubs and clubs" to meet the weekend demand, through the venues themselves paying for policing.
Ch Supt Nick Adderley said there were times when the number of officers available at 04:00 was "sufficient".
"What we do have though, because of the 24-hour licensing laws, [is] officers having to respond to fights in nightclubs at five in the morning - that can't be right and that's why we've got have the conversation about how we keep the city safe," he said.
He added that the issue was not just about policing, but also "about more volunteers on the streets, street pastors and special constables, those advocates who can help to keep people safe".
Mr Hanson also said pubs and clubs were often using officers after 04:00 "as private security and that has got to stop".
"We've got legislation where they can start to contribute. We're only talking for the smallest place £500 and the biggest nightclub £5000 per year - that will put sufficient resources on the streets of Manchester," he said.
'Late-night levy'
Manchester Pub and Club Network's Haydn Hope said the issue was about police budget cuts, not safety.
"This is the sixth consecutive year that crime and disorder, especially in the night-time, has fallen," he said.
"So why wasn't [the city centre] dangerous last year or the year before?
"The reason is budget cuts - this has got nothing to do with safety, this is to do with police trying to grab more money because the government have grabbed all theirs."
Mr Karney said the problem of night-time safety was not a new one and the idea of a "late night levy" had not been put to the council.
"When it is, we will consider it very carefully, [but] we're a bit old-fashioned in that we think we should have a publicly-funded police force," he added.