Manchester bus stop defibrillators installed at 16 sites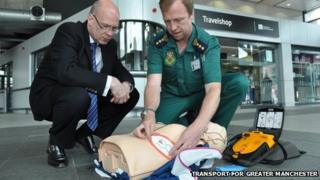 Defibrillators have been installed at 16 bus stations across Greater Manchester.
The automated external defibrillators (AED) only activate if the machine cannot detect a heartbeat, making them easy to use safely, Transport for Greater Manchester (TfGM) said.
Bus station and Travelshop staff have also been trained how use them to restart a person's heart.
The defibrillators have been provided by North West Ambulance Service.
David McNally, from the ambulance service, said: "Our aim is to ensure there are defibrillators at as many public locations as possible.
"Using the defibrillator within four minutes of collapse gives the best possible chance of survival."
Emergency operators who answer 999 calls have also been given the locations of the devices, so they can direct people to a bus station with a defibrillator.
The machines have been installed at Altrincham, Ashton, Bury and Rochdale and Shudehill interchanges, Bolton, Hyde, Leigh, Manchester Airport Middleton, Oldham, Stockport, Wigan and Wythenshawe bus stations, and at travel shops in Eccles and Piccadilly Gardens.