Selfie drug killing case man Christopher Sawyers jailed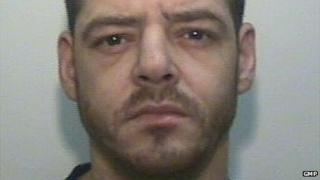 A heroin addict who killed two men with drug overdoses has been jailed for life - after a woman who posed for a selfie near one of the bodies was cleared.
Christopher Sawyers murdered Kenneth Chapman by injecting him with heroin as he was collapsed in a Salford flat.
The 33-year-old was also convicted of the manslaughter of Peter Clark, who was injected in the neck with crack cocaine and heroin.
Accomplice Kirsty Edmondson was cleared of murder but convicted of theft.
Murder scene 'selfie'
The 23-year-old, of no fixed abode, was jailed for three years for theft, theft of a motor vehicle and seven offences of fraud.
Sawyers, also of no fixed abode, admitted the same theft and fraud charges and was sentenced by a judge at Manchester Crown Court to serve a minimum of 33 years in prison.
Sawyers was introduced to Mr Chapman in 2012 by Edmondson, who worked as a prostitute for the 33-year-old.
On 28 December 2013, Edmondson and Mr Chapman bought heroin and went to his flat, where Sawyers joined them.
Sawyers then injected the 47-year-old with a heroin overdose "whilst he was in a collapsed state and in no position to defend himself", Greater Manchester Police said.
On the night of Mr Chapman's death, Edmondson took a "selfie" on her mobile phone "within touching distance" of his body, a police spokesman said.
After Mr Chapman died, the pair continued to use the flat, stealing items and making several attempts to defraud him.
Police found Mr Chapman's body on 12 January. A post-mortem examination found he had died from morphine toxicity.
Mr Clark, who was 60, died in hospital after Sawyers injected him with the drugs at a house in Manchester. A post-mortem examination found he had died from morphine, alcohol and diazepam toxicity.
Det Ch Insp Sarah Jones said while Sawyers "never had any intention to kill Peter [Clark], his illegal act in administering that drug caused a man to lose his life".
"In the case of Kenneth Chapman, he deliberately injected him with a fatal dose for one reason and one reason only - greed."