New homes plan near Manchester City FC's Etihad Stadium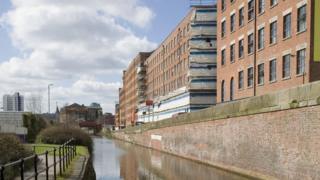 Six thousand new homes could be built in Manchester as part of the "biggest residential investment for a generation", the city council says.
The authority is working with Abu Dhabi United Group, owners of Manchester City FC, to regenerate the Ancoats and New Islington areas near the stadium.
Under the plans the area would get £1bn of investment over the next 10 years.
The club is already planning to increase capacity of the Etihad Stadium from 47,670 to 62,170.
'Honouring commitment'
Manchester Life Development Company, a joint venture between the council and Abu Dhabi United Group, said at least 830 new homes would be built under the first phase of the project.
It said the homes would be rented out privately once built.
Sir Richard Leese, leader of Manchester City Council, said: "The planned transformation of the eastern edge of the city centre is the single biggest residential investment Manchester has seen for a generation."
He said the Abu Dhabi United Group, owned by Sheikh Mansour, deputy prime minister of the UAE, was "clearly honouring the commitment" made when it bought the club to maintain its community programme and invest in the regeneration of East Manchester.
Sir Richard said the plan would help the city meet its target to build thousands of homes by 2027.
Work will start on the redevelopment of the area in 2015, pending planning permission.
Recession-hit area
Other recent investment in the area includes a Metrolink (tram) extension, new healthcare facilities, a primary school due to open in New Islington in September 2015 and the remodelling of the Central Retail Park on Great Ancoats Street.
The council started regenerating part of the derelict Eastlands site into a sports and leisure complex known as Sportcity when it got funds for the first facility there, the velodrome, as part of its bid for the 2000 Olympics Games.
At the time the area was one of the poorest in the city and in "steep decline", the city council said, having been hit hard by the recessions of the 70s and 80s when it lost 60% of its economic and employment base.
The authority built the City of Manchester Stadium, now the home of Manchester City FC, for the 2002 Commonwealth Games.
Sportcity also features the National Squash Centre, athletic stadium Manchester Regional Arena and the Regional Tennis Centre.
Abu Dhabi United Group bought Manchester City Football Club in 2008.