Space travel company Starchaser Industries' bookkeeper jailed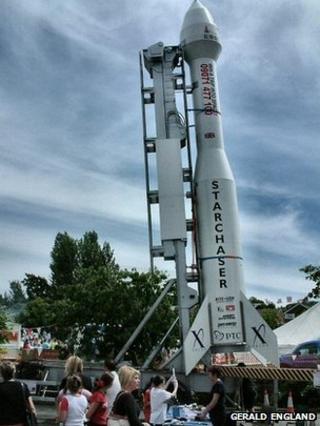 A bookkeeper who stole £167,000 from a Greater Manchester space tourism company has been jailed for two years.
Lynn Knott, 57, of Mellor Road, Ashton-under-Lyne, took the money during her six years at Hyde's Starchaser Industries.
Her crime was discovered after the company began receiving debt letters from their landlords about money she said had been paid.
She admitted fraud at Manchester Minshull Street Crown Court.
Starchaser Industries specialises in the development of space-related products and services.
Knott worked for the company from 2004 to 2011, when she was made redundant.
Greater Manchester Police said she left "on good terms" and was invited back to work on a freelance basis until the summer of 2012, when the company started using an accounting firm.
Knott's fraud came to light during that time after she was confronted about the landlords' claims.
An investigation found hundreds of money transfers which looked like they had been paid to suppliers, but the sort code and account number had been changed to divert the money to Knott's bank account.
Det Con Andy Devonshire said she had been "entrusted with a lot of responsibility and unfortunately the temptation proved too great".