Thousands turn out for Manchester Day parade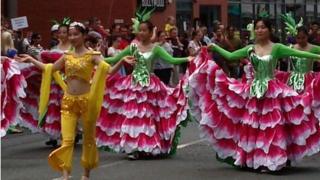 Tens of thousands of people turned out to watch the annual Manchester Day parade, where "Mancunians celebrate their great city".
More than 2,000 performers from about 90 community groups took part in the parade which started at Liverpool Road.
The event was streamed to 52 places across the world that are also called Manchester for the first time in its five year history, organisers said.
Manchester Day chairman Pat Karney said it was the "biggest attendance ever".
He said: "This is the mother of all parades in Manchester, it's our special day... when Mancunians from all corners of our great Manchester come together to celebrate our city.
"All the focus is on Mancunians celebrating their great city."
The parade was led by Manchester Day's mascot Gilly the Globefish, which last month visited the towns and cities across the world with a Manchester name.
The parade's highlights included a giant horse, marking the Chinese Year of the Horse, an over-sized super hero school pupil and a huge disco ball which celebrated Manchester's music scene.
More than 1,000 children took part and there were also dance classes, workshops, live bands and dance-offs in Great Northern Square, Exchange Square, St Ann's Square and Albert Square.