Manchester Royal Infirmary's new heart surgery suite completed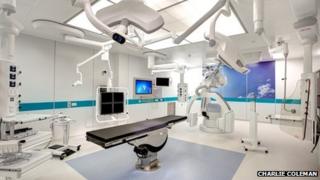 A £6m hospital theatre suite for pioneering cardiovascular surgery in Manchester has been completed.
The two new theatres at Manchester Royal Infirmary include better imaging technology and a robotic C-arm which can scan a patient during surgery.
Consultant vascular surgeon David Murray said the hospital would be able to carry out techniques and treatments that "are not currently possible".
The suite will be open to patients across the region.
Mr Murray said: "It will allow us to perform complex procedures in a safer environment and introduce innovative techniques that are currently not possible.
"Minimally invasive treatments will allow patients to have safer surgery and recover much faster."
The operating theatres will be used for major trauma incidents and urology surgery, as well as heart and blood vessel-related operations.