Greater Manchester Police arrest 153 for drink-driving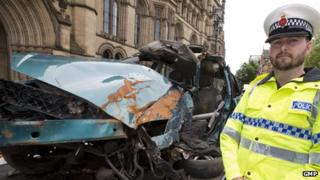 Police have arrested 153 motorists within three weeks of a crackdown on drink and drug driving in Greater Manchester.
Of those arrested, 24 were held following crashes, while others were arrested following 3,002 breath tests.
Greater Manchester Police began its campaign in June, using wreckage from a fatal drink-drive car crash.
Insp Matt Bailey-Smith said: "There are still far too many people prepared to put their life on the line."
"It is absolutely appalling that in 2014 we still have to remind people not to drink and drive," he added.