Ex death crash officer Mohammed Mian jailed for ban breach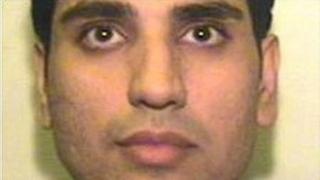 A former police officer jailed for killing a man and permanently disabling his wife in a hit-and-run crash is back in prison for breaking a driving ban.
Mohammed Mian, 35, from Urmston, Greater Manchester, admitted causing Steve Campbell's death on 1 January 2009 by dangerous driving.
He was jailed for four years and given a five-year driving ban.
Trafford magistrates have sent him back to prison for 18 weeks after he admitted driving while disqualified.
Mian, of Gredle Close, was also disqualified from driving for a further 12-months at Trafford Magistrates' Court.
Greater Manchester Police said officers arrested Mian on Wednesday after catching him driving on Humphrey Lane, Urmston.
Since his release, police said he had breached his driving ban on 30 separate occasions travelling to work.
Victim's amputation
The former Metropolitan Police officer was driving at nearly 60mph (97km/h) on a 30mph road when he hit Mr Campbell and his wife Rosemary, who were crossing the road in Urmston.
He hit the 49-year-old with such force that his leg was severed in the crash.
He died at the scene from multiple injuries and was thrown more than 100ft (30m) away from the point of impact. His wife was thrown 45ft (14m).
Mrs Campbell spent six days in a coma following the crash and her left leg was amputated below the knee.
Mian, who had a string of speeding convictions, initially drove off but later returned to the scene and admitted he was the driver.
He told police he "heard a smash and someone hit the windscreen" but that he drove off and dialled 999 before returning.