Khuram Shaikh: Crime scene blood 'matches three accused'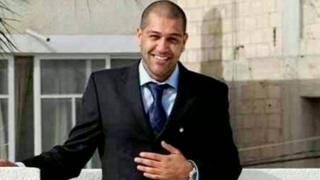 Blood samples found at a crime scene in Sri Lanka match those of three men accused of murdering a British tourist, a court has heard.
Khuram Shaikh, a Red Cross worker from Rochdale, was shot and stabbed to death at a hotel while on holiday in Sri Lanka on Christmas Day in 2011.
A professor of molecular biology told Colombo High Court one of the blood samples matched town council leader Sampath Vidanapathirana.
All six men on trial deny murder.
They also deny raping a woman.
Mr Shaikh, 32, had been working in Gaza fitting prosthetic limbs, but was on holiday in the resort of Tangalle.
He had been trying to break up a fight in the hotel bar when he was killed.
Rochdale MP Simon Danczuk has expressed concern at reports that the trial may have to start again.
The trial judge is likely to be appointed to the appeals court and if President Rajapaksa does not delay her promotion the defence lawyers will have the right to demand a retrial.
The trial continues.