Parklife festival death: Family appeal to find Robert Hart's killer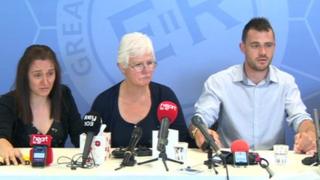 The family of a man who died after being hit with one punch at the Parklife festival in Manchester has appealed for help to find his killer.
Robert Hart, 26, of Macclesfield, Cheshire was attacked when an argument escalated after he was hit with an inflatable doll at the event in Heaton Park on 7 June.
He died four days later in hospital.
His brother, Richard Hart, appealed for anyone who knows the identity of the perpetrator to come forward.
He said "somebody somewhere knows" who killed him and urged them to tell the police "anything that helps the investigation to end quicker".
Robert's mother, Elaine Hart, and his two sisters also attended the news conference at Greater Manchester Police's headquarters in Newton Heath.
Ms Parry said: "He was the kindest, the warmest, the funniest and not aggressive and we all absolutely adored him.
"This person has taken that away from us."
Richard said wherever his brother went he had a "massive influence" on everybody's life.
Greater Manchester Police has issued an e-fit of a man they want to speak to.
He is described as of mixed-race, with a muscular build, in his late 20s, 6ft (1.8m) tall, with short, curly, black hair.
He was wearing shorts and a blue, bomber-style jacket with a white letter A on the front.
About 60,000 people attended the two-day festival in Heaton Park.