Manchester IRA bomb: Unseen images of blast aftermath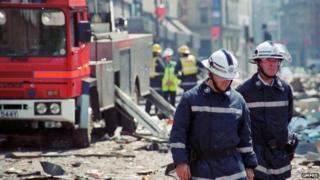 Unseen photographs of the aftermath of the IRA bomb which went off in Manchester city centre 18 years ago have been published online.
The negatives of the 69 photographs, which were taken by Greater Manchester Fire and Rescue Service, were recently found in their archives.
They show the effects of the explosion near the Arndale Centre on 15 June 1996.
No-one died, but many were injured and buildings were severely damaged.
The bomb was the second biggest to have exploded on mainland Britain, weighing 3,300lb.
It went off on the same day that England played Scotland at Wembley in the Euro 96 football tournament.
The events of the day were the inspiration for the recent BBC One drama From There To Here, which featured a recreation of the explosion and its aftermath.