Workmates embrace longest hugging record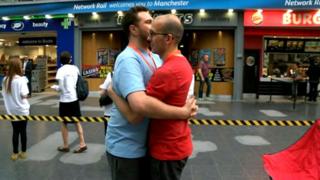 Two men from Manchester have broken the world record for the longest hug between two people.
Workmates Jon Bland and Olly Wigglesworth spent 27 hours hugging at Manchester Piccadilly Railway Station.
The pair, who work for a Manchester-based creative agency, had to keep standing and were only allowed a break for five minutes each hour.
They attempted the record in support of National Carers Week on the station's main concourse.
"It's been a bit weird but people have been very good," said Jon.
Supporters were encouraged to post a photo "selfie" of their own hug on social media using the hashtag #Hugselfie.
The men started during the rush hour on Monday and ended their "hugathon" on Tuesday at 10:15 BST, passing the previous record of 26 hours, 26 seconds.