Manchester 'failing' to meet low carbon target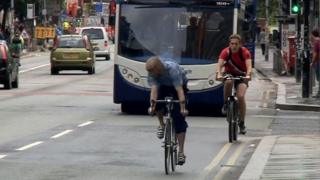 Manchester is falling short of its goal to cut carbon emissions by 41% in 10 years, a city think tank has said.
Manchester: A Certain Future (MACF) issued its warning in a report marking the progress of the city's low carbon plan halfway through the initiative.
The report said the city was unlikely to meet its targets if the current trajectory does not change.
MACF chair Gavin Elliott said emissions were too high and urged Mancunians to prioritise "low carbon thinking".
Formed in 2009 MACF, which represents 100 groups and 200 individuals, grew out of a Manchester City Council initiative and aims to cut the city's carbon emissions by 41% by 2020 and by 80% by 2050.
The report said many projects have made a positive difference to the city's emissions including the Metrolink expansion, the 'VeloCity Project' increasing cycle use and community initiatives to promote eco-friendly homes.
The number of peak time cyclists increased by 174% from 2005 to last year but this is still only 1,542 out of a city with a 511,000 population.
Mr Elliott, chair of MACF's steering committee said, "a huge effort will be required" from people and businesses to transform their behaviour.
He added that the government's energy policies had a detrimental effect on Manchester's carbon emissions.
The Department of Energy and Climate Change has yet to respond to MACF's report.