Ex-soldier David McIntyre loses US extradition challenge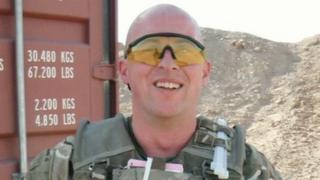 A former soldier wanted on fraud charges in the US has lost a legal challenge against his extradition.
David McIntyre, from Hyde, Greater Manchester is accused of overcharging for security services in Baghdad, Iraq.
Mr McIntyre, who denies the charges, says he has post traumatic stress disorder. At a High Court hearing in London, his appeal was rejected.
The 43-year-old said the "only route left" to him now was the European Court of Human Rights.
Mr McIntyre served with the Queen's Lancashire Regiment in Northern Ireland, Bosnia, Iraq and Afghanistan.
Mental disorder
Judges Lord Chief Justice Lord Thomas and Mr Justice Cranston ruled earlier that there was no legal "impediment" to his removal to the US.
The eight counts of fraud relate to claims he overcharged a US peace group $100,000 (£65,000) for a security contract when he was running his own firm, Quantum Risk, between December 2008 and 2009.
At a hearing in March, Edward Fitzgerald QC, representing Mr McIntyre, argued there was convincing medical evidence he was suffering from a mental disorder and it would violate his human rights if extradition went ahead because of the suicide risk.
He suggested McIntyre could stand trial in the UK. The US authorities opposed the bid to block removal.
Mr McIntyre said he was "devastated" by the verdict and has contacted Prime Minister David Cameron to ask for his help.
He said: "The only route left to me is an appeal to the European Court of Human Rights... otherwise I have to present myself for arrest at a central London police station within 28 days and then I'll be taken to the States".