Raymond Hawthorne jailed a second time for child sex offences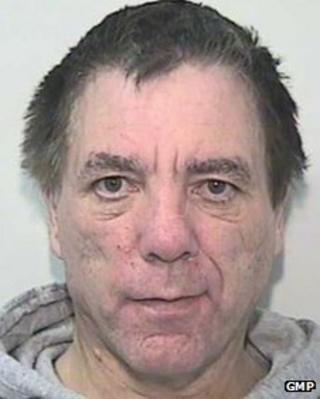 A Greater Manchester man with a conviction for child abduction has been jailed for a second time for prostituting a 15-year-old boy.
Raymond Hawthorne, 50, of no fixed address, admitted controlling a child prostitute for gain.
Hawthorne was jailed for 10 years, during a hearing at Bolton Crown Court.
In 2004, he was jailed for seven years, extended to nine on appeal, for child abduction and conspiracy to commit indecent assault on a child.
Greater Manchester Police said in December 2012 he was released having served his full sentence and moved to the Bolton area.
Police said Hawthorne contacted the teenage boy on a social networking site using a false name and began to offer him the opportunity to make large sums of money.
'Truly wicked'
They eventually met and the victim was groomed into prostitution involving "a number of men across the country", a spokesman said.
Det Con Paul Crompton said: "Hawthorne began reoffending almost as soon as he was released from prison, proving what a truly wicked and unrepentant individual he is.
"His only motivation is money and he has not thought twice about exploiting boys or men for cold hard cash."
Hawthorne also pleaded guilty to five counts of failing to comply with notification requirements.
The court gave Hawthorne a 10 year sentence with an extended licence of five years.
Protect children
Greater Manchester's Police and Crime Commissioner, Tony Lloyd, said the criminal justice system "let Raymond Hawthorne's victims down" when he was jailed for only nine years in 2004 for similar offences .
"The judge in the original case was correct when he said that the sentence available to him when Hawthorne was first convicted was absurd," Mr Lloyd said.
He added that he would be writing to both the Justice Secretary and Home Secretary to ensure the lessons from the case would be used to protect children in future.