Mother and daughters hurt in 'horrific' Heaton Chapel break-in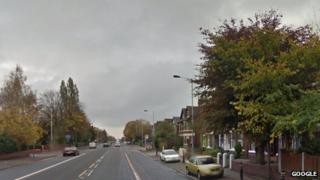 A mother and her two daughters were assaulted in an "horrific" attack by two men who forced their way into their home, Greater Manchester Police said.
The woman, aged 54 and her two daughters, both 19, were attacked in their house on Wellington Road North, Heaton Chapel, on Saturday afternoon.
The men punched and kicked the women before escaping with several items, including the family's car.
Insp Scott Winters said it had been "a terrifying experience" for the women.
'Dragged and punched'
A Greater Manchester Police spokeswoman said the sisters, who are two of a set of triplets, discovered the men after they heard a noise. The third sister was not at home at the time.
The men punched and kicked the women and then kicked their mother in the stomach when she came downstairs to find out was happening.
All three were then dragged into the lounge, assaulted and threatened again.
The spokeswoman added that as the men went to leave, one of the sisters tried to call the police but was spotted by one of the men, who ran back, punched her in the face and took her phone.
She said both men were described as white, about 6ft (1.8m) tall, with one being of a heavy build, while the other was slim.