Rania Alayed murder: Wife 'wanted a new life'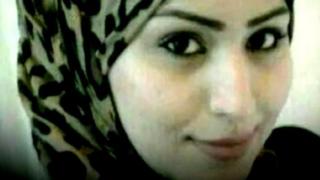 Rania Alayed left the violence of Syria in search of a new life in the UK. But her ambitions were destroyed at the hands of her abusive husband.
The mother-of-three had tried to separate from Ahmed Al-Khatib - who would eventually kill her and dump her remains. Ms Alayed's body has never been found.
An intelligent 25-year-old, she had attended college in Manchester, made new friends and embraced life in the UK.
But Ms Alayed's new freedoms angered her husband, who would not accept her requests for a fresh start.
After a trial at Manchester Crown Court, Al-Khatib, 35, of Gorton was found guilty of her murder.
'Childhood sweetheart'
Throughout the trial lasting almost a month, the jury heard how Ms Alayed was Al-Khatib's "only love" - the childhood sweetheart he married in Syria when she was aged just 15.
Yet Al-Khatib became jealous, violent and controlling, and when Ms Alayed eventually walked out, he invited her and their children to a Salford flat - and killed her while the children were in another room.
Manchester Crown Court heard Ms Alayed had endured years of domestic abuse after coming to the UK, where she first lived in the North East. She asked for help from the police and a solicitor.
She moved to Cheetham Hill in Manchester in January last year. There, she went to Openshaw College to learn English as a foreign language, making friends, both male and female.
Her uncle Ali Aydi said: "Rania couldn't live with him any longer. It is natural that that she asked him for a separation.
"He was a possessive person who didn't respect her views and wanted to mould her according to his wishes - but she didn't accept and she asked for a separation."
Al-Khatib carried out the murder after Ms Alayed was asked to go to her brother-in-law's flat in Salford.
'Wicked man'
He attacked her, before he made elaborate moves to try to cover his tracks.
CCTV showed Ahmed Al-Khatib wearing a headscarf in an attempt to pass himself off as Ms Alayed.
He then messaged and texted her friends and family, trying to convince them she was still alive.
Ahmed, along with his brothers Muhanned and Hussain, then drove north with her body to Yorkshire. Police believe they buried or concealed her near the side of the A19 near Thirsk.
Ahmed and Muhanned admitted intending to pervert the course of justice by transporting and concealing the body of Ms Alayed. Hussain was found guilty of the same charge.
Al Khatib tried to claim he was mentally ill when he killed his wife - seeing her as an evil spirit attempting to destroy him. The jury did not believe him. And neither does Ms Alayed's family.
Mr Aydi said: "He is a murderous monster, a wicked man as he committed the worst act that is condemned by society, by religion and by humanity.
"He claims he was not aware of his actions. He picks and chooses when he wants to be sane. He is a good actor. He was beating Rania. She lived a very hard life."
Police from two forces have been searching for Ms Alayed's body for months, using helicopters, sniffer dogs and ground penetrating radar.
It is a search which has pre-occupied Det Ch Insp Peter Marsh's professional life.
"I have had some sleepless nights about this," he said.
"It might sounds silly, but I've had dreams where the ghost of Rania is telling us things. I'm not going to be comfortable until we've found her."