Nelson 'Pakistani only' To Let sign removed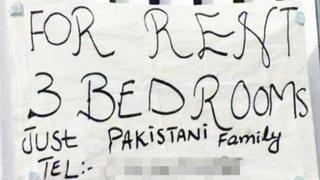 A 'To Let' sign advertising for a Pakistani family has been taken down after families complained to police.
Residents contacted officers after spotting the sign in a window at a house in Nelson, Lancashire.
The handwritten advert read 'For Rent, 3 Bedrooms, Just Pakistani Family' with an attached mobile number.
Officers tracked down the landlord, who removed the sign after accepting it was "inappropriate".
Pendle MP Andrew Stephenson also received complaints, and condemned the sign as "deeply offensive".
He said: "This kind of thing has the potential to inflame tensions in the community.
"My office was contacted by British people, as well as eastern European families, who were unhappy with the sign.
"I also spoke to Asian families who couldn't believe what they had seen."
'Caused grief'
About a dozen complaints were made to police and Mr Stephenson.
Inspector Paul Goodall, of Lancashire Constabulary, confirmed the sign was investigated as a potential "racist incident", but no crime had been committed.
"We managed to get around to the landlord's address and he accepted that it could have caused a stir, and the wording could cause offence," he said.
"He said he had had some tenants who caused him grief, and just wanted a nice family. He accepted it was inappropriate.
"He took the sign down and that was the end of the matter. It was dealt with fairly, and proportionately."
The landlord was unavailable for comment.