Leigh man conned out of £100k life savings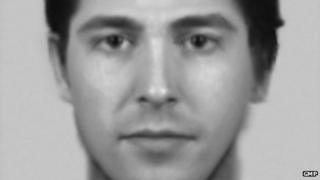 A bogus trader who swindled a man out of his £100,000 life savings is being hunted by police.
The 72-year-old victim was repeatedly targeted by the conman, who agreed a deal to jet wash his driveway.
He later told the man he was due a refund, but demanded more cash before offering to send him a cheque.
Greater Manchester Police said the "vulnerable" victim, of Leigh, Greater Manchester, handed over cash totalling £107,000, over a 15-month period.
As well as spending his life savings, he also took out a loan to keep up the payments, which began back in May 2012.
'Caught in vicious circle'
Police have released an e-fit image of the suspect, who went by the name of "Howard" and claimed to work for "Marshalls."
The conman would often send a courier to the victim's address to collect cash, police said.
Det Con Richard Willoughby said: "This is an absolutely tragic case. He has been caught in a vicious circle, not wanting to stop payment over concerns he would not see any of his money again.
"The actions of the offender are wicked and shameful. To knowingly take so much money from a vulnerable pensioner is despicable and I don't know how the person responsible can live with themselves."
Police have been investigating since August that year, after the pensioner's family realised his savings were missing.
However, officers say their inquiries - which have involved covert policing and CCTV recordings - have come to nothing.
The offender is described as white, in his 30s, clean shaven with brown hair. He dressed smartly and spoke with a southern accent.