WW1 VC hero L/Cpl Joel Halliwell recognised by renamed road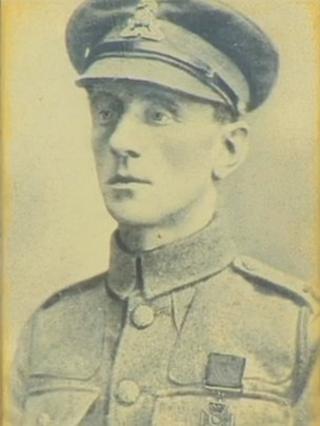 A Greater Manchester town has renamed a street after its only World War One recipient of the Victoria Cross on the 96th anniversary of his act of bravery.
L/Cpl Joel Halliwell won the military's highest award for rescuing 10 wounded men from no man's land on 27 May 1918.
Corporation Street in Middleton has been renamed Lance Corporal Joel Halliwell V.C. Way in his honour.
His granddaughter Joanne Bliss said her family was "extremely proud" of L/Cpl Halliwell's "selfless act".
The father of three, who served in the 11th Battalion of the Lancashire Fusiliers, was awarded the medal for saving an officer and nine other soldiers who were wounded during the Third Battle of the Aisne.
He had been taken prisoner by German troops but escaped and was making his way back to his battalion when he heard the cries of the stricken men.
He captured an enemy horse and rode back and forth under heavy fire to take them to safety, only stopping when the horse collapsed.
Ms Bliss said he then "walked for miles" to deliver water to the wounded.
'Splendid and inspiring'
She said because she had heard the story so many times "when I was younger, I didn't think too much of it".
"But as I've grown older, I realise just what a gallant act it actually was.
"It was a very selfless act - that he saved all these people and they went on to live a life that they wouldn't have had."
She added that the renaming of the street, which runs alongside Middleton Arena, would be "an everlasting monument to what he's done".
Rochdale Borough Council's deputy chief executive Linda Fisher said it was "very important" to honour L/Cpl Halliwell's "achievements and bravery in this permanent way".
"His conduct was magnificent throughout, and he was a splendid and inspiring example to all," she said.
L/Cpl Halliwell died in June 1958, aged 76, and was buried in Middleton Cemetery.
Recently, his grave was given a larger headstone bearing a new inscription: "For valour - Joel Halliwell VC - these are deeds which should not pass away and names that must not wither."
His story and that of his brother Tom, who died after being wounded at the Battle of the Somme, were featured on a special edition of BBC One's Antiques Roadshow in April.