Victorian tunnels found during £6m revamp of Wigan Town Hall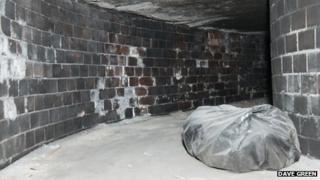 A hidden network of Victorian tunnels and an antique stained glass window have been uncovered during the restoration of a town hall.
The discovery was made at Wigan Town Hall, which is undergoing a £6m renovation.
The forgotten curiosities, which also include an ornate mosaic floor, will be displayed to the public after the 1902 Grade II-listed building is restored.
"These are fascinating discoveries," said project leader Tony Dougan.
"We think the tunnels were an old Victorian heating system."
For most of the 20th Century the hall, one of the town's most prominent buildings, existed as Wigan Mining and Technical College.
It was taken over by Wigan Council in the early-1980s.
'Amazing features'
A Victorian toilet was also discovered among the items, which have not been seen since the 1970s.
Mr Dougan, of of ISG Construction Services, said: "Arrangements are being made for some of these items to be features of the building.
"When people come into the new reception area and look up, the first thing they see will be this amazing stained glass window."
The rebuilding project began in November and will expand the building to accommodate about 600 employees. It currently houses 230.
English Heritage has been consulted during each stage of the refurbishment.