Rania Alayed murder accused 'saw spirits since aged 16'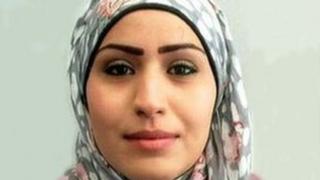 A man who claims he killed his wife in self-defence when she appeared as an evil apparition told a court he had been seeing spirits since he was 16.
Ahmed Al-Khatib, 35, claims the spirit then commanded him to bury her body.
Mother-of-three Rania Alayed, 25, from Manchester, went missing last June but her body has never been found.
Mr Al-Khatib admits causing her death but denies murder. His brother Muhaned, 38, denies murder but admits perverting the course of justice.
Prosecutors at Manchester Crown Court allege Mr Al-Khatib, of Gorton, Manchester murdered Ms Alayed, who previously lived in Norton, Teesside, at his brother's flat in Salford and then began an elaborate deception to convince her family and friends that she was still alive.
Mr Al-Khatib said he had received medication after he started hearing voices and seeing spirits in his teens, and had also been to an imam for counselling.
'No harm intended'
"Rania was my life," he told the court, adding that he would "never do anything consciously" to hurt her.
He admitted that he had been unhappy when she started college and began wearing make-up.
Earlier in the trial, the jury was told that Mr Al-Khatib was claiming a partial defence of diminished responsibility.
Tony Cross QC, prosecuting, rejected Mr Al-Khatib's claims that saw his wife as en evil spirit and that as he pushed her away she hit her head against a mirror, knocking her unconscious and killing her.
Mr Al-Khatib and his brother admit intending to pervert the course of justice by transporting and concealing the body of Ms Alayed.
A third brother, Hussain Al-Khatib, 34, of Knutsford Road, Gorton, denies the latter charge.
The trial continues.