'Good times' back at Manchester City league title parade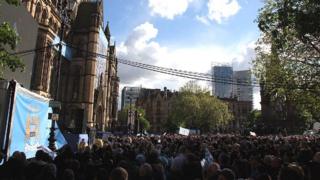 After years of growing accustomed to seeing Manchester United celebrating with their fans in the streets, Manchester City supporters are now starting to enjoy trophy parades on a regular basis.
Despite Arsenal topping the table for 128 days and 11 straight wins for Liverpool as they closed in on their first league title since 1990, it was the blue half of Manchester attending a party with the Premier League winners.
A comfortable 2-0 victory at home to West Ham sealing the title may have lacked the drama of Sergio Aguero's late winner two years ago, but according to the club's goalkeeper Joe Hart, their performance, securing their second title in three years, confirmed they were now a "proper team".
As thousands of people gathered outside the town hall, supporters reflected on another unpredictable end to the title race.
'Calming influence'
Alan Otterwell, 59, from Oldham has not missed a home game for 31 years.
He said: "I thought we were really professional and got the job done against West Ham. It definitely wasn't as nerve-wracking as two years ago against Queens Park Rangers.
"This team is the best I've ever seen, the 1968 team were good, but not this good. [The manager] Manuel Pellegrini has a lot to do with it, he's a calming influence and keeps everything together."
Mr Otterwell brought his dog Oscar along, who was wearing a shirt signed by former Man City striker Mario Balotelli. "I like to show him off", he said.
Evelyn Delaney, 44, from Altrincham, said as a lifelong fan she was finally starting to get used to some success at the club.
She said: "It's brilliant, I remember going to Wycombe away in the 1990s, now we are going to Barcelona, it's the good times.
"There's unity there, the manager inherited a team but he is the one who has got them to play together, they have gelled."
She added: "We now need to consolidate our position at the top and make a mark in Europe."
Along with several other players, Joe Hart had a tough start to the season with a number of mistakes costing the team points in 2013.
But as Liverpool failed to capitalise on a slight lead in the crucial title run-in, Manchester City calmly won their games in hand, displaying a team with experience of dealing with the pressures the title race brings.
Jack McGowan, 50, from Middleton, brought his sons Peter and Rhys to the parade.
He said: "We are starting to come to parades more often now, we are definitely more optimistic. Hopefully my sons will see City catch Manchester United up in terms of league titles.
"Liverpool and their good run did concern me near the end of the season, but they slipped up, literally in Steven Gerrard's case."
'Crucial decisions'
Luthfur Rahman, from Ashton, was joined by his seven-year-old nephew Abid.
He said: "It was a slow start to the season, but credit to the manager, he made some crucial decisions, including the move to drop Joe Hart."
Abid said his favourite player was Sergio Aguero.
As the blue ticker tape and streamers were fired above the thousands of people filling the square, a thought needed to be spared for Leighton and Rebecca Jeffs, two Manchester United fans who got married earlier.
The couple said they left the ceremony and were immediately in among all of the football celebrations.
Rebecca said: "It has definitely made it a bit different, I have to admit the atmosphere is amazing. We are just going to stay quiet and head to the reception."