Tatton Park's The Cheshire Hunt public restoration begins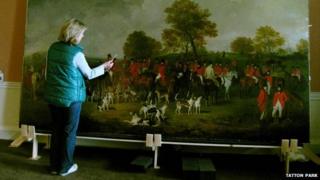 The "delicate" restoration of one of a stately home's "most important paintings" has begun under the watchful eyes of its visitors.
Julia Dalzell will be restoring Manchester artist Henry Calvert's 1839 work, The Cheshire Hunt, in a public area of Tatton Park until October.
Her work will include removing old varnishes and "refilling lost areas".
Ms Dalzell said restoring in public would allow people to "see firsthand the intricate work that is necessary".
A spokeswoman for Tatton Park said the painting, which usually hangs in the mansion's grand entrance hall, "still provides the huge and impressive impact it had on visitors to the Egerton's country house in the 19th and 20th century".
It depicts members of the Egerton family, who lived at Tatton Park at the time it was painted, and other local businessmen and landowners taking part in a fox hunt.