Leigh to Manchester bus lane scheme work begins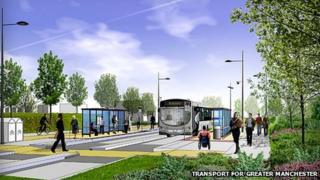 Work has started to create new bus lanes on the East Lancashire Road as part of a busway linking Leigh, Salford and Manchester.
The work, part of a scheme to create a 13-mile (21km) bus route due to open in 2015, will see a year of roadworks.
Dedicated bus lanes are to be created at key stretches of the A580 between Ellenbrook and Irlams o'th' Height.
Transport for Greater Manchester (TfGM) said work will be carried out off peak where possible.
Sean Corker, of the Alliance of British Drivers, called the new system mistaken, adding: "Less people are using buses so why we need another congestion causing bus scheme I don't know."
But a TfGM spokesperson said the scheme is addressing the longstanding need to improve links from Leigh and other neighbourhoods along the corridor into Manchester, adding that it will "promote a resurgent bus network."
Some of the A580 bus lane is being built on a widened roadway, in addition to four and a half miles (7km) of guided busway and TfGM says there will always be a minimum of two lanes for general traffic in either direction.
A new signalling system that responds to traffic levels on the road will also be installed to improve traffic flow at junctions.