Maxwell Parsons jailed in absence for £2.5m bank fraud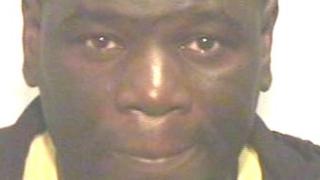 The brains behind a sophisticated bank fraud in which more than £2.5m was stolen has been jailed in his absence.
Maxwell Parsons, 48, devised computer software to reverse bank transactions, Manchester Crown Court heard.
The gang he led was able to spend money repeatedly from the same banks. At the peak of their activities, police said they "laundered" up to £50,000 a day.
Officers are appealing for information as to the whereabouts of Parsons, who was sentenced to seven years for fraud.
Parsons will also have to serve a three-year jail term, handed down in his absence in February, for an unconnected offence of theft.
'Persuasive liar'
The bank scam was fully active between December 2008 and June 2009. Purchases were made all over the UK but mainly in Greater Manchester, where the majority of the gang was based.
The total amount taken was at least £2,560,000, according to Greater Manchester Police (GMP).
Det Con Carol Britton, of GMP's Major Fraud Unit, who was commended by the trial judge for bringing Parsons and his co-defendants to justice, described him after the hearing as a "prolific criminal who has deliberately been evasive with the authorities at every opportunity".
She added: "Parsons is a well-practised, convincing and persuasive liar and can talk himself out of almost any situation."
Two other men received suspended jail sentences.
Muhammad Khan, 43, of Alexandra Road South, Whalley Range, Manchester, who admitted fraud at an earlier hearing, received a 16-month sentence, suspended for two years, and must perform 200 hours of unpaid work.
His friend Takhliq Khaliq, 47, of Boddens Hill Road, Heaton Mersey, who also admitted fraud at an earlier hearing, received a 12-month sentence, suspended for two years, and must also carry out 200 hours of unpaid work.