Five rescued in 'wheelie bin arson attack' in Oldham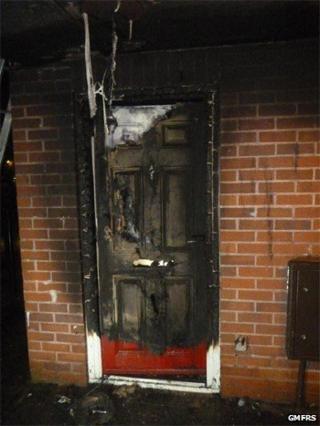 Five people have been rescued from a fire in Greater Manchester after a wheelie bin and mattress were pushed up against a front door and set alight.
The fire started at a property in Fifield Close, Fitton Hill, Oldham, in the early hours.
Two men and a woman were trapped in an upstairs flat. Another man and woman were trapped in the flat below.
Greater Manchester Fire and Rescue Service said it appeared the fire was started deliberately.
Group Manager Gary Jones said: "The three people in the upstairs flat had only one way out and that door was engulfed in flames.
"They were on the phone to our call operators at the 999 control room throughout the incident and were given life preserving advice on how to stay safe and calm whilst we got them out."
"This could have been an awful lot worse. It appears this fire has been started deliberately.
"The police and our own fire investigation team are now investigating exactly what happened."