Rolls Royce founders' meeting in Manchester celebrated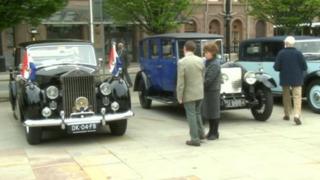 Rolls Royce enthusiasts were in Manchester city centre to celebrate 110 years since the company's founders met for the first time.
Members of the Rolls Royce Enthusiasts' Club met by the Midland Hotel, where car salesman Charles Rolls and engineer Henry Royce agreed to go into business.
Mr Rolls was "impressed" by Mr Royce's car created in Cook Street, Manchester.
Cars including one that belonged to the late Queen Juliana of the Netherlands' were on show.
'Got on well'
Club chairman Duncan Feetham, said Mr Royce was "disillusioned by French cars" because they were "very unreliable" so "decided to produce something better".
Mr Royce built a car in the factory in Cook Street and drove it to his home to Knutsford in Cheshire on 1 April 1904 "without problem", Mr Feetham said.
A meeting was set up with Mr Rolls, who was known to one of Mr Royce's colleagues.
John Beecroft, event organiser, said: "[They] went for a little drive round, Charles Rolls was very impressed with the two cylinder ten horsepower car.
"Traditionally he liked four or six cylinder cars but this two cylinder car was so smooth, so well engineered.
"This is where they met so where better to go, than the place they actually met."