Sounds From The Other City: A decade of 'fresh' music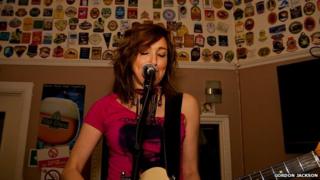 If you are not from around Manchester, you may labour under the popular misconception that the musical greats associated with the city are all from within its limits.
Yet, a fair collection of those known as Manchester acts have come from the oft-overlooked city which lies cheek-by-jowl beside it - Salford.
Separated by a sliver of river, Salford has produced a crop which includes folk troubadour Ewan MacColl, Madchester stalwarts Happy Mondays, post-punk pioneers Joy Division and their dance-laden reboot New Order, singer-songwriter Graham Nash and opera star Russell Watson.
And for a decade, it has also been home to a festival dedicated to the best new music, the wryly-named Sounds From The Other City (SFTOC).
The festival is the brainchild of brothers Mark and Maurice Carlin, who started it after moving their recording studios into Islington Mill, the once-industrial creative space round which SFTOC revolves.
Mark says after moving into the building, the pair "found there was a combination of really positive energies, really great people and the feeling of opportunity and anything being possible".
"We'd always been involved in the music scene but more on the peripheries, so it seemed like the perfect opportunity to start something new."
He says they also noticed "the myriad of really interesting and unusual spaces in and around the area" which could be used for performances.
It is those which have given SFTOC its unique attraction. The one-day festival utilises not just the usual concert halls and pub backrooms, but also statuesque churches, railway stations and even a telephone box.
He says the aim from the outset was to bring together "all the best bits of what independence and 'doing it for yourself' mean and try to make something more than the sum of it parts".
"In the first year, we invited along four promoters and staged four simultaneous gigs in four pubs along Lower Chapel Street.
"There was no real intention of making it a festival and I think that term is a bit of a misnomer."
Phone box set
He may be right. With its attendees dodging traffic on the busy A6 as they scamper between the disparate venues to catch bands, it does not have the feel of a traditional festival.
But it is precisely that scattered, loose feel that provides it with its charms and, festival or not, it has become one of the best places to catch rising stars from both nearby and much further afield.
In the past, it has seen sets from a vast array of talents, including Mercury Prize winners Alt-J, Welsh chart topper Marina and The Diamonds and New York rock hero Andrew WK.
The latter's set saw him phone one festival goer and deliver advice and a song down the line from New York, while the lucky listener sipped on "a Guinness and orange that Andrew had elected for his entry drink".
It is far from Mark's only highlight. He says the more unusual sets stand out, such as singer-songwriter David Thomas Broughton playing in front of a repair garage and "kicking the door with his foot to make the rhythm".
'Rough round the edges'
Then there was local stars The Ting Tings playing their debut set in a pub in 2007, "a simply ridiculous notion [given that] this band had all this industry hype [but] were there on the tiniest stage in a little boozer. It was totally surreal".
Mark says looking back at the previous SFTOCs feels "weird, as in some ways, to be doing an event for 10 years is really a complete lifetime".
"On the other hand though, it's flown by and everything still feels pretty fresh and exciting.
"I think it's testament to the independent and DIY scene in the cities that there are still so many talented people and new ideas coming through and there is still an appetite for things that are a bit rough round the edges."
'Good place to be'
He says that while the festival has got larger, in terms of ethos, not much has changed in a decade.
"The idea of inviting a selection of our favourite promoters to programme a day event in some of the most interesting parts of our favourite part of the city was there from day one and is still there."
He adds that "there can be the temptation to measure these kinds of things in whether its bigger, better attended or more polished and slick," but such things are not for SFTOC.
"I'd like to think that where SFTOC has grown is that it really does now seem to position itself as the day of the year that the spirit of independence, of just doing it for the sake of doing it, can take centre stage and celebrate.
"If that's what people have got out of it and continue to do so then that for me is a good place to be."
Sounds From The Other City takes place at various venues in Salford on Sunday 4 May