Rochdale reacts to Cyril Smith sex abuse allegations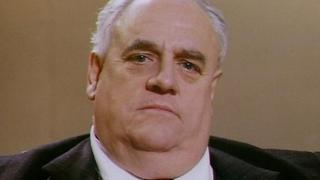 Cyril Smith was one of the UK's most recognisable politicians who earned widespread respect over two decades serving Rochdale. But many in the town now say they feel "deceived" after sexual abuse allegations were linked to the late MP.
Smith was MP for the market town, near Manchester, between 1972 and 1992. He died in 2010, aged 82, and -despite allegations about his activities - remained popular with many people in the town.
Even now he is still remembered by many as a charismatic and "likeable" character who frequented local cafes, would say hello in the street, and do all he could to help his constituents.
Diane Jackson, a mother-of-three, once lived close to the Falinge Road home Smith shared with his mother Eva, and siblings, Eunice and Norman.
The 44-year-old said the allegations had come as "a big surprise".
"My sister needed a flat and he helped her. She was pregnant at the time," she said.
"His mum and his whole family would come into the café where I worked and we all got on well. He was very well liked.
"It's a big surprise. You just wonder if it could all have been a misunderstanding."
However, Anna Darcy, 48, said rumours about Smith were known in the town.
"There have always been rumours about Cyril Smith but you just don't know," she said.
"The man's dead and should be left to rest in peace. It's all water under the bridge."
Other Rochdale residents said the claims had tarnished the town's reputation.
"It's brought shame on the town," William Whitehead, a 65-year-old retired painter and decorator, said.
"He was in a position of power and I thought he was alright at first. But you quickly become suspicious. He did a lot for kids in the area but maybe he had motives beyond that.
"He lived with his mother all the time and never got married. I'm Labour, so I'm glad I didn't vote for him."
On Monday, Greater Manchester Police (GMP) said its investigation into the Liberal MP's alleged activities at Knowl View School had they had now identified at least 11 potential suspects. Smith was a governor at the school during the 1970s, when the offences are said to have taken place.
A book published by Rochdale's Labour MP Simon Danczuk claims the 29st (180kg) politician was left free to abuse children as young as eight, despite 144 complaints being made by victims.
Smith's family has said he always denied such accusations and has welcomed the investigation.
However, some residents say there were always questions surrounding Smith's character.
"He was a creep. The kids used to throw stones at him," said construction worker Colin Spencer, 43.
"If people are coming forward with these allegations then maybe there are even more. If there are 10 there could be 50."
Geoffrey Carter, a retired psychiatric nurse from the village of Wardle near Rochdale, said: "I think Rochdale Council should be taken to task for not investigating earlier.
"These claims should have been picked up and looked at a long, long time ago."