MC Tunes debuts second album Damage By Stereo 23 years late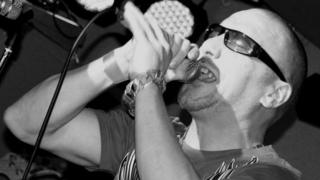 Manchester rapper MC Tunes' second album is to get its public debut, 23 years after it was due to be heard.
Damage By Stereo was recorded in 1991 but after a disagreement, it was not released by record label ZTT.
The rapper bought the tapes from the label but shelved them as he moved on to other projects. However, he said "a bunch of people" had since "convinced me to let people hear the music".
Damage By Stereo will get its first airing at Manchester's Factory 251.
The debut playback will take place at the club at 21:00 BST and the album will be released through former New Order bass player Peter Hook's Hacienda Records label later in the year.
MC Tunes, 44, whose real name is Nicky Lockett, said it was Hook's offer "that was the decider".
"I think it's great that there is so much interest in this 23-year-old material from people who know what they are talking about."
'A time capsule'
Damage By Stereo was to be the follow-up to MC Tunes' 1990 debut, The North At Its Heights, which featured his two hit singles with Manchester dance pioneers 808 State, The Only Rhyme That Bites and Tunes Splits The Atom.
The 1991 album was recorded with producer Trevor Horn, the former Buggles, Yes and Art of Noise member who had produced Seal, The Pet Shop Boys and ABC previously and went on to work with Robbie Williams, Cher and Tina Turner.
After falling out with the ZTT label, the album was shelved and Lockett repaid an advance from the label in return for the master tapes.
Lockett went on to front Dust Junkys, who were sampled by DJ Fatboy Slim on his 1998 hit, Gangster Trippin.
Following a reissue of his debut in Japan in 2011, interest in putting his second album out was reinvigorated and led to Lockett handing the master tapes to Manchester's Advanced Media Restoration, which has carefully brought the music back to playable standard.
Tony Rigg, of the Laboratory Project, who helped support the restoration process, said Damage By Stereo was "like a time capsule, taking us back to a key stage in the development of British hip-hop".