Sir Alex Ferguson wine collection auction could make £3m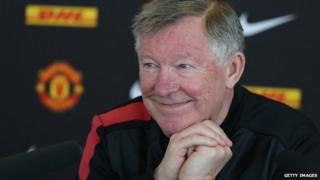 Part of the wine collection amassed by Sir Alex Ferguson during his Manchester United reign could fetch more than £3m, an auction house says.
The collection includes vintages dating from 1986, when Sir Alex was appointed at Old Trafford, up to 2011.
Sir Alex said that collecting wine had served as a "distraction" which had given him balance in his life.
The wines will be sold by auctioneers Christie's in Hong Kong, London and online in May and June.
Sir Alex said: "My interest in wine began during a scouting trip in France and, over time, my enjoyment of discovery and collecting grew."
He added that collecting helped him deal with the "intensity and demands" required of him as the manager of Manchester United.
The collection features "a roll-call of impressive wines" including Burgundies and first growth Bordeaux, Christie's said.
David Elswood, their head of wine, said: "It is remarkable to see that Sir Alex's talent of picking quality players for the pitch also extends to picking wines for the cellar."