Judge rejects care firms' Rochdale leader libel claim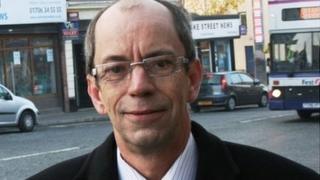 Two care firms have lost a libel claim against a council leader over remarks he made following last year's jailing of a Rochdale child sex grooming ring.
After the case, the council's Labour leader Colin Lambert said the borough was the "wrong place" to put vulnerable youngsters in private care.
Two local care companies claimed they lost business worth more than £400,000 from eight local authorities.
But Mr Justice Bean said Mr Lambert was criticising "the system".
Meadows Care Ltd and Pathfinders Childcare Ltd, filed a joint writ alleging that the councillor's comments also damaged both companies' reputation.
Mr Justice Bean, sitting in the High Court in London, dismissed the action saying: "It was quite clear to me when I first read the words complained of, and remains clear after several more readings... that they were an expression of opinion and did not involve an allegation of culpable behaviour or negligence on the part of the claimants or their staff.
"Councillor Lambert was saying that, in his opinion, the children are not properly protected, and that this lack of protection is a consequence of legislative and systemic defects."
Nine men were convicted last May for the illegal grooming of under age girls for sex in Rochdale.