Zain Iqbal sentenced over crash that led to emergency birth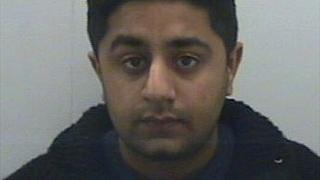 A man who drove his car into a taxi, injuring a pregnant passenger and causing it to hit a man walking nearby, has admitted dangerous driving.
Zain Iqbal, 19, of Balleratt Street, Levenshulme, hit the black cab after undertaking a car on Great Ancoats Street in Manchester on 3 May 2013.
The pedestrian and three passengers were injured. The pregnant woman had to undergo an emergency Caesarean section.
Iqbal was sentenced to 28 months in a young offenders institution.
He had been driving a silver VW Golf, which hit the taxi as it turned off Great Ancoats Street onto Redhill Street.
The force of the crash spun the cab on to the footpath, trapping the pedestrian between the car and railings.
The man suffered injuries to his hips, pelvis and legs.
All three of the taxi's passengers, members of the same family, were hospitalised, with the 29-year-old pregnant woman suffering head and chest injuries. She spent three months in hospital, but her baby was delivered unharmed.
The taxi driver suffered minor injuries to his legs.
Sgt Mark Thomas said the crash had resulted in "a horrific set of circumstances".
"The woman was taken to hospital where her baby was delivered whilst she was still unconscious, a traumatic experience for both mother and baby.
"This experience and her ongoing medical recovery still affects her immensely.
"The pedestrian's injuries have improved but were of such a serious nature that his chosen career path has been taken away from him."
He added that while Iqbal's "lengthy sentence" would not change what happened, "it will hopefully provide some closure to all those involved".
Alongside his sentence, Iqbal was also banned from driving for four years.