Cyril Smith abuse claims: Family 'saddened' by new book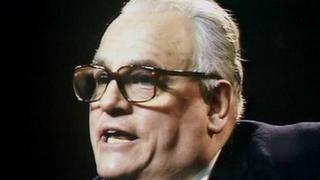 The family of the late Sir Cyril Smith have said they are "saddened" by claims made against him in a new book written by a serving MP.
The author, and current Rochdale MP, Simon Danczuk claims Sir Cyril used his position of power to sexually abuse young boys and then escape prosecution.
The former Rochdale MP's family said they were concerned by the book's claims so long after his death "when he is unable to defend himself".
Police said Sir Cyril was a sex abuser.
'Always denied accusations'
Mr Danczuk said previously he asked police to re-examine the case after "a number of victims came to see me and raise concerns".
The Labour MP claimed in 2012 there was "little doubt" that Smith raped some of his victims.
The family issued a statement following the serialisation of the book Smile for the Camera: the Double Life of Cyril Smith in the Daily Mail.
It stated: "The Smith family continues to be saddened and concerned by the allegations made so long after Sir Cyril Smith's death and at a time he is no longer able to defend himself, as other celebrities and politicians have recently been able to do, in high profile court cases.
"Evidence has never been presented to the family during their meetings and conversations with police regarding many of the accusations made by Simon Danczuk MP, newspaper reporters and others.
"Sir Cyril always denied accusations made against him while he was living."
The family requested they are now "left alone" by the press in particular the former Rochdale MP's brother Norman Smith MBE, who is 82.
The Smith family said it would continue to co-operate with any further investigations.
Residential school
On Saturday, police confirmed a total of seven former pupils at Rochdale's Knowl View residential school linked to the late Liberal Democrat MP have alleged they were sexually and physically abused by "at least 11" people from the 1970s onwards.
Police said four more people had come forward but could not confirm if any of the new complaints related to the politician.
Smith was chairman of governors at the council-run school for vulnerable boys which closed in 1992.
Allegations emerged in 2012 that the MP abused boys at the school.
An independent review into the way it was run is due to report to Rochdale Council next month.
Sir Cyril, who died in 2010 aged 82, has also been accused of abusing eight youngsters at Cambridge Hostel, also in Rochdale.
The Crown Prosecution Service said he should have been charged with sex crimes 40 years ago.