Chester anti-fracking protests 'premature'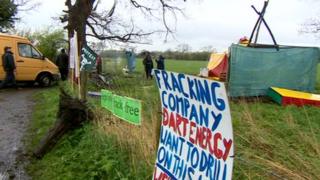 Anti-fracking protesters have set up camp at a site in Cheshire despite an energy company saying it has no plans to drill there.
Protesters set up a camp at Upton near Chester over the weekend.
They said they want to get on to the site before any test drilling starts.
Dart Energy said it had planning permission to test for coal bed methane at the site, but said any protest was "premature" as it had no drilling "scheduled or planned".
A spokesman added that the company did not have permission to undertake hydraulic fracturing - fracking - at the site and the extraction of coal bed methane did not use that process.
'Negative impacts'
The company has a licence to test drill in an area of the Bowland Basin under Cheshire for underground resources and Chief Executive John McGoldrick stated in December that it was still searching for the county's "sweet spots".
Dart Energy has estimated that its licensed area contains around 110 trillion cubic feet of shale gas.
The site at Upton is around a mile (1.6km) from Chester Zoo, which said there was potential for "direct and indirect negative impacts on wildlife and the wider environment" during the construction and operational phases.
Those at the camp fear the test drilling in Cheshire could lead to future applications to carry out fracking.
Fracking involves pumping a mixture of water and chemicals into shale rock at high pressure to extract gas and oil.
Environmental campaigners claim the process encourages reliance on fossil fuels instead of promoting investment in renewable energy sources.
Supporters say the process unlocks huge deposits of oil and natural gas and increases a country's energy security.