Killer Paul Maxwell gets two years for absconding on day release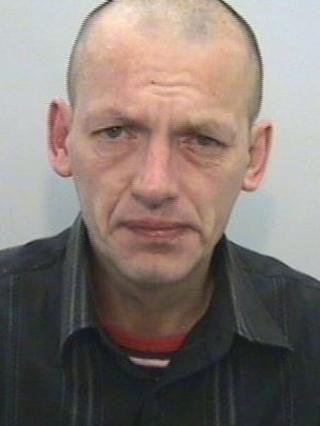 A convicted murderer who absconded while shopping on day release has been sentenced to two years.
Paul Maxwell, 49, of no fixed abode, escaped from a HMP Buckley Hall prison guard on 21 February while in Rochdale town centre.
Maxwell was arrested three days later in Salford along with Robert Flynn, his daughter's uncle.
Flynn, 53, of Salford, was sentenced to six months in prison, suspended for two years, for assisting an offender.
Maxwell was caught following a manhunt which saw officers visit several addresses, including Flynn's flat in Camponia Gardens, Salford on 24 February.
The 53-year-old had been one of the last people to visit Maxwell in prison before his escape.
'Calculated and premeditated'
After police checked CCTV and found footage of the pair leaving the flat, an area search took place and Maxwell and Flynn were arrested in nearby Albert Park.
Maxwell claimed he had turned up at Flynn's flat on 23 February, but police found the pair had visited Flynn's mother in a care home three hours after Maxwell absconded.
Det Con Matthew Donnelly said Maxwell had, "by his own admission, used his day release as an opportunity to abscond".
"While there could have been little by way of planning - he simply just ran away - there is no doubt it was calculated and premeditated."
He added that the fact Maxwell lied about when he met Flynn was "a reflection of his character".
Maxwell, then called Mansell, was sentenced to life imprisonment in 1997 after he attacked two elderly brothers during a robbery at their home in West Yorkshire. One of the men later died of his injuries.
His sentence for absconding will run concurrently with his existing term.