Salford Council fined for 'guillotine' gate that injured boy's hand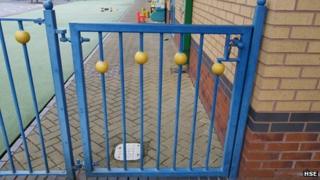 A council has been fined £20,000 after a six-year-old boy with learning difficulties lost three fingertips in a "guillotine effect" school gate.
The Health and Safety Executive (HSE) found Salford City Council had not acted on a 2004 report, which found the gate was potentially dangerous.
The council admitted to a health and safety breach in October 2012 at Minshull Street Crown Court.
The authority said it was "sincerely sorry" for what had happened.
Part of the boy's middle finger was cut off and later reattached by doctors.
The boy, who also has autism, was a pupil at Springwood Special Educational Needs Primary School in Swinton.
'Council's failings'
Staff opened the gate to let 10 children into the playground for the lunchtime break when the boy's left hand became trapped in its hinges, the HSE said.
Its investigation found that, despite the report in April 2004, guards were not fitted to 22 gates at the school after the incident.
There was a 3in (8cm) gap on the side of the gate when it was shut, which was closed off when it was pushed open - creating a "guillotine effect", the court was told.
HSE inspector Emily Osborne said: "It is simply not good enough to identify something as being a serious risk but then to do nothing about it, and a guard should have been fitted over the dangerous part of the gate."
"Instead, a six-year-old boy suffered injuries that are likely to affect him for life as a result of the council's failings," she added.
The council was also ordered to pay £3,632 costs.
Salford City Council said it was "sincerely sorry" and said it was implementing procedures to ensure that this type of incident can never happen again.