Manchester house price rise 'faster than London'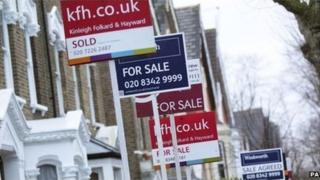 "Panic buying" could be fuelling a house price boom in Manchester, according to an estate agent.
Prices in Manchester are rising at the fastest rate in the UK, beating even the London figure, according to the Nationwide house price index.
Manchester estate agent Julie Twist believes a lack of houses and new-builds is driving up prices.
"Some people are panic buying to get onto the property ladder and enjoy the capital growth," she said.
The index showed prices in Manchester rose by 18%, compared to 17% for London, in the first quarter of 2014.
'Take the heat out'
The city has had the biggest percentage rise for nine months in a row, according to the figures from the Nationwide, the UK's second biggest mortgage lender.
The index shows the average price for a house in the Manchester is now £211,748.
The Nationwide's figures are based on a sample of its own lending, and differ from other data.
Duncan Scott, from PricedOut, a volunteer group campaigning for first time house buyers, said the government needs to "take the heat out of the housing market".
"We're not big fans of gimmicks like Help to Buy - the government needs to increase supply and allow house prices to reach their natural level," he said.
The government's Help to Buy scheme offers loans of up to 20% on new homes.
It also offers a mortgage guarantee scheme, which insures lenders against losses if homeowners default on repayments.
'Bubble' risk
Steve Goodison, from the First Time Buyers Centre, an estate agency in Ashton-under-Lyne, said he had been surprised by the recent rise in prices, and believes it is "unsustainable".
Too many buyers chasing too few properties is the reason for the rapid increase in prices, he believes.
He is also concerned this could be the start of a house price "bubble" that will eventually burst.
"The north west is not a rich area - all you need is for mortgage rates to go up for there not to be enough income coming into the household to keep up the payments," he said.
The Office for National Statistics said last week that UK house prices in January were up 6.8% compared with a year earlier, driven by a 13.2% increase in London.
In the budget, Chancellor George Osborne confirmed plans to extend the Help to Buy loan offer until the end of the decade.
But the Bank of England, among others, has also warned the scheme could create a housing market bubble.