Killer Dale Cregan accomplices refused sentence appeals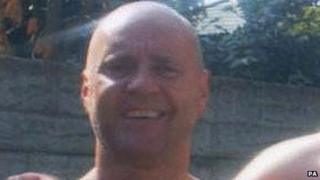 Two men who helped police killer Dale Cregan murder a man in a gun and grenade attack have been refused leave to appeal against their life sentences.
The Court of Appeal has rejected the applications from Jermaine Ward and Anthony Wilkinson.
The pair helped Cregan murder rival David Short at his home in Manchester in August 2012.
They were jailed in June, along with Cregan, who was convicted of murdering PCs Fiona Bone and Nicola Hughes.
Ward was convicted of killing Mr Short at his Clayton home in August 2012, while Wilkinson admitted his part in the murder of Mr Short.
Mr Short was killed after Cregan and others shot dead his son Mark at the Cotton Tree Inn, Droylsden, in May 2012.
'Waging war'
Cregan killed the police officers when he went on the run after murdering the Shorts and lured PCs Bone and Hughes into a gun and grenade ambush.
Wilkinson and Ward were jailed for 35 years and 33 years respectively.
Rejecting the bids, one of the three judges Sir Brian Leveson said there was no doubt that the murder of David Short "along with the other terrible crimes committed during this series of murderous attacks" had "destroyed and fundamentally damaged many other lives".
Society provided "mechanisms for solving disputes", and "waging what is little short of a war" was not even "remotely justifiable", he added.
Sir Brian warned that anyone using guns and explosives in pursuit of personal vendettas, or for any other reason, "must expect that sentences will necessarily be of the very greatest severity".