Fusilier James Wilkinson's gun death caused by safety failings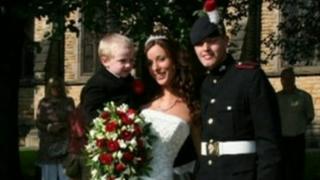 A soldier killed by machine gun fire while training in Kenya died as a result of poor safety practices, an inquest has ruled.
Fusilier James Wilkinson, 21, from Bury, Greater Manchester, was accidentally shot in the neck during an exercise in November 2011.
Oldham Coroners Court heard the major failure was an attempt to clear the jammed weapon in an unsafe direction.
Speaking after the inquest, his family said he was "failed by his colleagues".
'Bitter taste'
Two soldiers were jailed over Fusilier Wilkinson's death but later had their sentences cut and were allowed to stay in the army after an appeal.
In a statement read outside the hearing, his family said the decision to allow them to remain in the armed forces had left a "bitter taste in their mouths".
The soldier, from the 2nd Battalion, Royal Regiment of Fusiliers, had recently got married and his wife Sarah was expecting their first child when he died.
Staff Sgt Patrick Price and Cpl Colin Bell were originally dismissed from the armed forces after the accident.
Appeal courts judges in London later cut the length of jail terms the two should serve, and ruled they could stay in the army but should be reduced to the rank of private.
Judges said Price, a safety supervisor on the exercise, was found guilty of negligently performing his duty by failing to ensure the safe handling of a machine gun.
Bell admitted negligently performing his duty while handling a machine gun, causing the unintended discharge of a round which killed Fusilier Wilkinson.
'Thoughts with family'
In returning a narrative verdict, the inquest jury criticised a breakdown in the safety system which it said was due to insufficient training prior to the exercise.
However, coroner Simon Nelson concluded the main omission was a failure to ensure "the safe direction of the weapon."
A spokesman for the Ministry of Defence (MoD) said: "Our thoughts remain with Fusilier Wilkinson's friends and family following this tragic accident.
"As recognised at the inquest, we have accepted and implemented all the necessary recommendations that came out of the investigation into the accident so that we can try to prevent something like this from ever happening again."