'Brawl' at Radcliffe Borough vs Lancaster City probed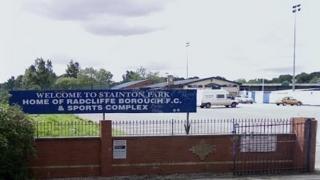 Police and the Football Association are investigating an alleged brawl which left three people injured at a non-league match.
Officers were called to Radcliffe Borough's Stainton Park ground during the club's match against Lancaster City on Saturday afternoon.
The Evo-Stik Division One North match was stopped for about 10 minutes.
Online video clips suggest the trouble broke out after Ramsbottom United fans and players turned up at the ground.
Greater Manchester Police said three people needed hospital treatment but nobody was arrested.
'It's becoming embarrassing'
On a video posted on the internet, Radcliffe's match announcer can be heard calling for order.
"Can the Ramsbottom United supporters, players and officials please leave the ground and the Lancaster City supporters please do us a favour and make your way back to the top end of the ground," he said.
"You are making a spectacle of yourselves; it is becoming embarrassing."
He added: "Thank you for upsetting our day out today."
The clubs involved declined to comment. An Evo-Stik League spokesman said the matter was in the hands of the FA.
An FA spokesman said: "We can confirm that this is under investigation."