Thieves dig tunnel to steal £80k from Salford cash machine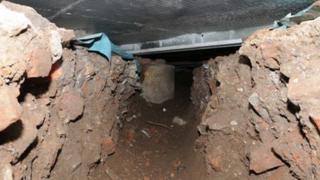 Thieves who built a 50ft (15m) tunnel to a cash machine in Salford got away with more than £80,000.
The theft happened on Friday at Tesco on Liverpool Road, Eccles, between midnight and 06:00 GMT, police said.
The raiders tunnelled under nearby wasteland overnight and into the shop, where they stole cash boxes. They then escaped back through the tunnel.
Police said they were looking for "people acting suspiciously, possibly covered in soil".
Officers believe the thieves may have spent a number of months digging the tunnel because of the complex nature of its structure.
Det Sgt Mark Toker, of Greater Manchester Police, said: "These people had obviously spent a long time plotting this crime and I doubt they would have been able to keep their plans secret for all that time, without telling others about their elaborate scheme."
Police said they did not yet know if the incident was connected to a similar raid at Blockbuster in Fallowfield Shopping Precinct in January 2012.
Raiders escaped with £6,000 after the raid that echoed a storyline from the Channel 4 show Shameless.
Police believe that same gang carried out a similar raid in 2007.
There have been no arrests in either case.