Rio Smedley death probe prompts PC misconduct hearing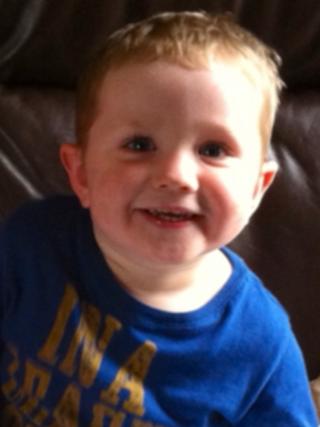 A police officer faces a misconduct hearing arising from the events leading up to the death of a toddler killed by his mother's boyfriend.
Daniel Rigby was jailed for life for the murder of Rio Smedley, aged two, from Breightmet, Bolton, in April 2012.
The Independent Police Complaints Commission (IPCC) said PC Shazan Hussain had failed in his duties.
However, it said the toddler's death could not have been prevented by Greater Manchester Police.
Rio died of 91 separate injuries on his body likely to have been caused by "heavy blows" from "punches, kicks, knees and stamping", a jury at Manchester crown court was told.
He died in hospital after his liver ruptured.
Rio's mother, Kirsty Smedley, was jailed for four years for allowing or causing the death of a child.
The watchdog investigated whether police should have dropped a domestic violence investigation against Rigby following a complaint by Smedley.
The report found "a direct causal link between the investigation into an alleged assault by Rigby on Smedley and subsequent death of Rio could not be established".
'Officer's failure'
However, it found Mr Hussain should face a misconduct hearing because he "had failed in his duties in a number of ways".
The officer's failings included:
not checking to see if CCTV existed of Smedley and Rigby walking near her home soon after the alleged assault
not visiting witnesses in person
not questioning Rigby about his criminal history
not making inquiries about Rio
not passing on information about Smedley's injuries.
IPCC Commissioner James Dipple-Johnstone said: "While it cannot be said that if the officers had chosen to take a different course of action against Daniel Rigby, Rio Smedley would still be alive today, there were a number of shortcomings identified during our investigation.
"Reports of domestic violence must be treated seriously and acted upon thoroughly, particularly those that involve children who may themselves be at risk."
A Serious Case Review commissioned by the Bolton Safeguarding Children Board and published in January found that the child's death could not have been predicted.