Barton Moss fracking protesters win stay of eviction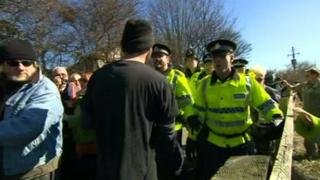 Fracking protesters have won a late legal bid to avoid eviction from a camp near a test drilling site in Salford.
Lawyers for the group, at Barton Moss, have been granted a full hearing to decide if there are grounds for the right to an appeal against eviction.
Landowners Peel Investments was granted possession of the camp on Monday and the eviction had been due to take place at midday.
The firm has so far declined to comment on the decision.
'Possession order'
Ugo Hayter, of legal firm Leigh Day, said they were pleased the court had agreed "to stay the possession order pending a proper opportunity to consider our grounds of appeal".
About 60 people have been camped on land near Barton Moss where energy company IGas started testing for the presence of shale gas in November.
Protester Martin Burke, one of the defendants named in the possession order case, said: "I'm delighted for the courageous protesters who've been here this winter. We are fighting this order."
Peel Investments claimed in court that the camp was causing problems for the public and the police.
Hydraulic fracturing or fracking involves pumping a mixture of water and chemicals into shale rock at high pressure to extract gas and oil.
Two small earthquakes, of magnitude 1.5 and 2.2, hit the Blackpool area in 2011 after fracking.
It was temporarily suspended in the UK until a government review concluded the process was safe if adequately monitored.
Environmental campaigners claim the process encourages reliance on fossil fuels instead of promoting investment in renewable energy sources.
Proponents of the process say it unlocks huge deposits of oil and natural gas, increases a country's energy security and boosts the economies of the areas in which it takes place.