Murderer Dale Cregan was 'hidden in Leeds flat'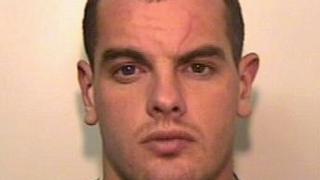 Police killer Dale Cregan hid in a flat in Leeds for several days after murdering a man in a gun and grenade attack, Manchester Crown Court heard.
Five defendants are accused of helping Cregan, Anthony Wilkinson and Jermaine Ward after the August 2012 attack on David Short in Droylsden.
Jack and Samuel Willbye, Raj Khan, Marvin Herbert and Patricia Kelly all deny conspiracy to assist an offender.
Cregan, Wilkinson and Ward were jailed last June for Mr Short's murder.
Cregan was also jailed for the murders of PCs Fiona Bone and Nicola Hughes, more than a month after killing Mr Short.
Mr Short was pursued through his home by Cregan and shot repeatedly before he was blown up with a hand grenade on 10 August 2012, the jury heard.
Three months earlier, Cregan had shot dead Mr Short's son Mark in a pub in Droylsden.
Nicholas Clarke QC, prosecuting, said it had been the first time military fragmentation grenades had been used in this way in the UK.
He said the killers knew they needed a quick getaway from Greater Manchester, anticipating an "intensive and robust" response from police.
'Getaway drive'
A desperate Cregan attempted repeated mobile phone calls to a man called Mohammed Imran Ali to try and arrange a getaway, the court heard.
Cregan, Ward and Wilkinson then drove to meet Patricia Kelly, 55, at the Press to Impress dry cleaners where she worked in Droylsden.
Ward and Wilkinson had made a "series of significant telephone contacts" to Mrs Kelly before the attack, Mr Clarke said.
Ali, who was jailed for assisting an offender, was eventually contacted and drove the three men to Bradford, 30 minutes after the killing, the court was told.
He alleged they were picked up in Bradford by Raj Khan, 44, of Clifford Close, Bradford, who took them to an apartment he owned in the City Island development in Leeds city centre.
DNA evidence matching Wilkinson's was found on a duvet cover at the flat while similar evidence matching Cregan was found on a pillow case.
The case continues.